​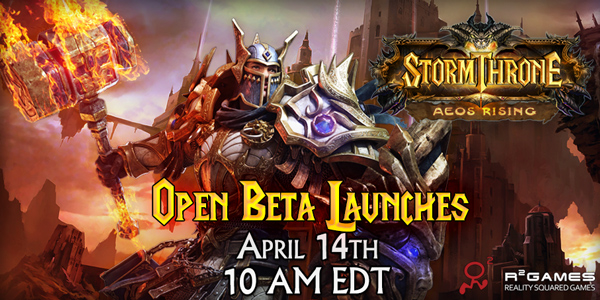 The stage is set. The Alpha servers have been closed, and the fierce battles and vast alliances of Stormthrone's early days fade into history. Whatever server you played on – the classic experience of S1 and S2, or the all-new Aeos of S3 and S4 – we want to thank you for your continued support and enthusiasm.

We also want to announce that Stormthrone's Open Beta will launch this Tuesday, April 14th, at 10 AM EDT!

This is the big one – the big 2, actually, since we will open two servers to accommodate the Open Beta's streamlined cross-server features.

Whether you create your main on S1 Isradol's Den or S2 Rift Valley, all Open Beta characters will be

permanent

,

and you'll be able to recharge for Pyrum!

The era of Alpha testing is over. The future of Stormthrone starts on Tuesday – and we'll see you there!

In the meantime, there has never been a better time to make yourself heard about your Alpha experience – check out the all-new Beta Suggestions thread and change the future of Aeos! Thanks again, and we'll see you on Tuesday!