​Today, we're proud to introduce the first round of
Stormthrone
minigames:
Stormthrone Sweets
and
Stormthrone Spins
. The time to begin earning points is now – because on
November 18th
at
8:00 AM EST
, the
Exchange Points
function will go live, and your accumulated points can earn you exclusive Alpha pack codes filled with Pyrum and other goodies! There are more minigames where these came from, and you'll face new challenges in the coming weeks – but before you get started on the road to Alpha riches, let's take a quick look at the evolution of our first delectable distractions, from concept to execution!
Minigame 1: Stormthrone Sweets

Stormthrone Sweets took a straightforward route from the initial mockup to the final version – but with the addition of a dramatic background, the quest for confections became much more challenging. Just remember that you only have 24 hours to complete each stage, so check back each day to maximize your score.
Minigame 2: Stormthrone Spins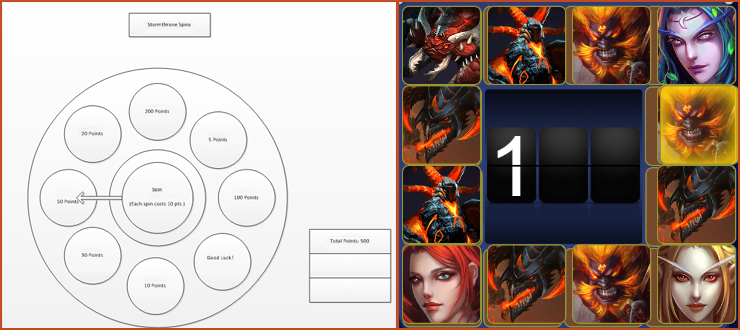 Stormthrone Spins underwent a much more dramatic transition from the first draft to the final product – but even though character portraits turned out square rather than round, luck is still the name of the game! Will you land on the heroic spaces of Stormthrone's player races (Humans, Moon Elves, and Temeri) or will your points accrue more slowly?
That's all we have for the first round of Stormthrone minigames, but there are more on the way. Let us know what you think! We're eager to show you more behind-the-scenes stuff about minigames to come, as well as features on the development of Stormthrone itself. What do you want to see next?